Many women and men more often dream of gaining beautiful, illuminated and uniform skin colour, skin without all drawbacks. For this purpose, most of us use colouring cosmetics. In Korea, a bb glow treatment was developed.
The goal of the BB GLOW treatment is primarily to permanently brighten, even out the skin tone of the face, neck, cleavage, hands, and to give the skin a healthy glow.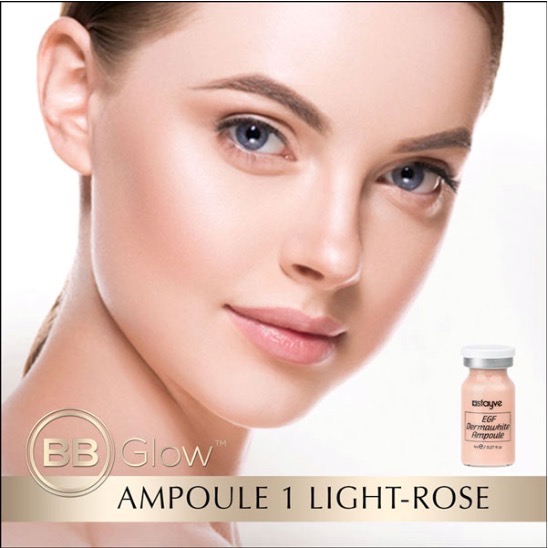 How does the procedure look like?
During treatment, Korean Dermawhite BB Glow serum is used, which contains an added foundation. The treatment involves introduction of a serum into the skin using a Dermapen device (microneedle mesotherapy). Due to micro-punctures, the serum with active substances penetrates into deep layers of the skin.
The serum contains many active substances, we distinguish the following:
Natural plant extracts
Plant stem cells
Niacinamide (vitamin B3) – it is a vitamin dissolved in water. It belongs to the active ingredients that penetrate very well the most superficial layer of the epidermis (stratum corneum). This vitamin stimulates collagen synthesis and increases the production of ceramides, which are part of the skin's lipid barrier, thus reducing transpidermal water loss, thus maintaining a good level of hydration and elasticity.
EGF growth factor – stimulate the growth and division of epidermal cells, responsible for rejuvenating the skin tissue.
How long does the effect last?
After the first treatment, skin colour evenness is visible. To maintain the effect of the treatment, it is recommended to perform 4 to 5 treatments. The effects persist even from 6 months to a year.
Indications and contraindications
Indications:
Skin flabbiness
Oily skin discoloration
Freckles
Pigment and age spots discoloration
Matte complexion
Acne
Wrinkles
Deep wrinkles
Enlarged pores
Contraindications:
Pregnancy and lactation
Herpes
Cancer therapy
Epilepsy
Blood diseases
Viral hepatitis
Heart diseases
Purulent inflammation of the skin
Use of anticoagulants (aspiein, akard, heparin)